We are Jordan Ridge Eagle Leaders!
We are learners who lead. We commit to succeed.
Online lunch count due by 9:30
District Reopening Plan.          Jordan Ridge Reopening Plan         Jordan District Dashboard          JRE Safety Video

Calling all writers (That's you!)
The JRE Student Leadership Council is holding a writing contest to Celebrate Author's week March 1-4 see details below.
"Everybody Has a Story to Tell"
Our student leadership Council is celebrating Author's Week March 1st through March 4th. This year, to honor Dr. Seuss' birthday, we are going to have a writing contest!
There will be two contests: one for 4th-6th grade, and one for Kindergarten-3rd grade. **If kindergarten wants, they can draw pictures with captions or be in the writing contest.**
The contests are optional for everybody. The theme, "Everybody Has A Story To Tell," is full of options for you to write about. You can write a poem, a nonfiction memory, something about your interests, or pretty much anything that helps tell a story about you. Your story can be any genre: fantasy, science fiction, realistic fiction, etc.
  Guidelines for the contest
Submission deadline is Monday, March 1st.

You may not write anything that has to do with violence or weapons.

Keep your story no more than 2 pages long

Either type your story and email it to

christine.mcintyre@jordandistrict.org

or

belinda.irick@jordandistrict.org

If you win, the Student Council may edit and ask you to resubmit. 

Winners will be announced on the JRE website, and on the intercom.

Have fun with it. 
Other Activities
Games at recess on March 4th

Kahoot games on favorite children's books

Dress up like your favorite character from a book Thursday, March 4th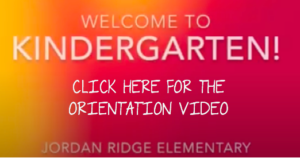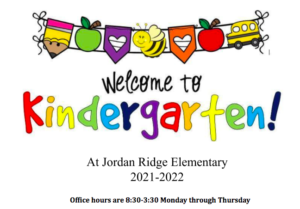 Kindergarten Registration information
**January 24th Update**
We have had a wonderful time back since the winter break! There is a calm in the building and students are happy! Thank you again for being so supportive during this unique year.
Below are a few reminders about upcoming events:
Kindergarten Orientation will be virtual this year. Our wonderful Kindergarten teachers and staff created a video that you can watch to get all of the information you will need to get registered and prepared for Kindergarten. You can also access this video and registration flyer on the school website. Please tell your neighbors who have Kindergarten-aged children so they can get their child registered. Please register as soon as possible so we can get a count of how many Kindergarten students to prepare for next year.
Maturation will also be held virtually. It is available for 5th grade girls and boys as well as 4th grade girls. Please watch the video with your student and remember that this video will not be shown at school. Our wonderful PTA will still be sending home a personal hygiene kit and booklet with your permission. Watch for a permission slip to come home or download one here.
Maturation hygiene kit permission slip: virtual maturation program.docx
Valentines Day will be celebrated on February 11th. All valentines need to be brought to the school by Thursday, February 4th so they can quarantine over the weekend. Students will be given a paper craft bag to hold their valentines, so please do not send your student with a decorated box.
Safety reminder: Please do not wave students to cross the parking lots outside of the crosswalk. This has begun to be a problem again. This is such a dangerous practice and we had a student almost get hit while doing this earlier this year. Please watch this video to remember the procedures for safely crossing the parking lot.
The deadline for Language Arts honors applications at South Jordan Middle has been extended through Friday, January 29. See the SoJo registration page or apply via this link.
---