We are Jordan Ridge Eagle Leaders!
We are learners who lead. We commit to succeed.
Online lunch count due by 9:30
Thursday 29th -Country Fried Steak 

Rocky Peak Virtual Elementary will open Fall 2021 for students seeking a virtual option for learning. Information can be found at https://rockypeak.jordandistrict.org/.
Congratulations to our Jordan Ridge Writing Contest Winners!!!
Click below to see each of the winning stories! Congratulations to our amazing writers who were chosen and our many amazing writers who were brave enough and submitted their work.
**April 21st Update**
We can't believe that we are nearing the end of the school year! Despite all of the unique challenges this year brought, we have seen so many successes! Thank you for your support!
Crosswalk Safety
First, and more importantly, we have noticed some dangerous driver behavior at our crosswalks at 9800 South and 2700 West. Our crossing guards do such a great job warning drivers and doing everything they can to help keep our students safe. We need your help to support our crossing guards and to help keep our students safe!
We realized that some patrons may not know that there are different procedures for a striped crosswalk and one that is not striped. Additionally, there are expectations for drivers and for pedestrians at crosswalks. Please read the following description with your student so everyone can correctly and safely proceed through crosswalks:
Remember, our school crossing guards are there to keep our kids safe, but we all have a responsibility:
·     Kids – even if the signal says you can walk, check the crossing guard to be sure it is safe to cross. Keep your head up.  Look left, right, left and stay on lookout for cars. No texting, No distractions.
·     Drivers – When crossing, the guards will hold up the stop sign, there are no cars allowed anywhere in the crosswalk regardless of which half of the street you are on. No texting. No distractions.
**Drivers should never drop off a student at the corner in the crosswalk! 
Here are some links with more information for your family to discuss:
https://www.deseret.com/utah/2021/3/24/22348671/striped-vs-soli:d-crosswalk-lines-knowing-the-difference-could-save-you-a-ticket
https://safekids.org/tip/pedestrian-safety-tips
Last Day of School:  June 4, 2021
We have received notice that students will be in person for four hours on the last day of school. Since Fridays have been an online learning day all year, we wanted to make sure you were aware that students will be in person on this Friday.
Grade-level assemblies will take place on the last day of school. Please contact your child's teacher for information about any specific events or activities. Due to COVID, we will still not be able to invite patrons for any events or activities.
Virtual Student Chromebook Return
We will start accepting Chromebooks in the afternoon on the last day of school. Teachers will need students to be able to access their device the morning of the last day of school. Watch for more information about how to return your child's Chromebook.
Meet our New Assistant Principal!
As many of you know, Mrs. Moore was moved to Majestic Elementary full time to help with preparations for the new Majestic Arts Academy which will be opening next school year. We are so lucky to have Mrs. Gandara as our new assistant principal! Take a look at her introduction letter to get to know a little bit about her.
** April 6th Update**
Just a reminder that Spring pictures are tomorrow!
Code for Purchasing EVT6RRXTF
(Remember that spring pictures will only be taken of students whose parents request them. We will not take all students down for pictures.
We will be starting the process of creating classes for next year. If your child has exceptional learning needs, you are welcome to fill out our learning environment needs form (attached). This is not a teacher request form! It is an opportunity for parents to describe any needs their child may have so that we are aware of them and can place them appropriately.
Learning Environment Need Form.pdf
As you may be aware, the state mask mandate will be lifted on April 10th. Schools however will still be required to enforce masks. We ask your support in helping your child continue to wear a mask to school through the end of the school year. We will continue to enforce masks at our school and follow all safety procedures that were put in place at the beginning of the year. Please review the statement posted on our district website in regard to this mandate:
Posted on March 29, 2021
The Utah Legislature passed House Bill 294 in March. Most people are familiar with the part of the bill that says the state can no longer require masks in most public places after April 10.
But the mask requirement stays in place for K-12 schools until June 15. Local officials, like a school board or county council, do NOT have the legal authority to end the mask requirement in schools before this date. Public health officials asked the Legislature (and the Legislature agreed) to keep a mask requirement in place for the following reasons:
No vaccine is currently authorized for anyone younger than 16.

Not every adult in the school setting has been vaccinated.

Children can get sick from COVID and have long-term effects.

Children can get COVID, not feel sick, and transmit the illness to people at home who aren't vaccinated yet.
Schools are planning in-person proms, activities, and graduations, which can only happen if we continue to slow down the spread of COVID-19. Wearing masks is one of the easiest and best ways to prevent the spread of COVID-19. We should continue wearing masks until more people have a chance to get vaccinated, including children and teens. School districts should continue to work with their local health departments to ensure the health and safety of all of Utah's school aged children.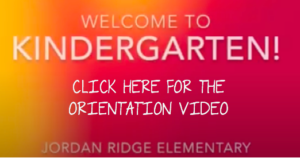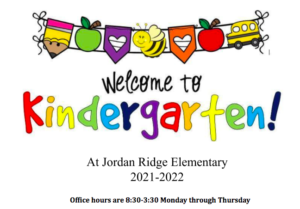 Kindergarten Registration information
**January 24th Update**
We have had a wonderful time back since the winter break! There is a calm in the building and students are happy! Thank you again for being so supportive during this unique year.
Below are a few reminders about upcoming events:
Kindergarten Orientation will be virtual this year. Our wonderful Kindergarten teachers and staff created a video that you can watch to get all of the information you will need to get registered and prepared for Kindergarten. You can also access this video and registration flyer on the school website. Please tell your neighbors who have Kindergarten-aged children so they can get their child registered. Please register as soon as possible so we can get a count of how many Kindergarten students to prepare for next year.
Maturation will also be held virtually. It is available for 5th grade girls and boys as well as 4th grade girls. Please watch the video with your student and remember that this video will not be shown at school. Our wonderful PTA will still be sending home a personal hygiene kit and booklet with your permission. Watch for a permission slip to come home or download one here.
Maturation hygiene kit permission slip: virtual maturation program.docx
Valentines Day will be celebrated on February 11th. All valentines need to be brought to the school by Thursday, February 4th so they can quarantine over the weekend. Students will be given a paper craft bag to hold their valentines, so please do not send your student with a decorated box.
Safety reminder: Please do not wave students to cross the parking lots outside of the crosswalk. This has begun to be a problem again. This is such a dangerous practice and we had a student almost get hit while doing this earlier this year. Please watch this video to remember the procedures for safely crossing the parking lot.
The deadline for Language Arts honors applications at South Jordan Middle has been extended through Friday, January 29. See the SoJo registration page or apply via this link.
---
Show your Eagle School Spirit by wearing Jordan Ridge apparel and/or school colors

red

, blue,

silver

during the week and every Friday.
---
---